Page 3 of 3 •

1, 2, 3
.
I posted a gif of Boids showing a few slow bounces, elsewhere here recently, Re: Stacked Spins - scripting the photon's motion (technical),
http://milesmathis.the-talk.net/t278p75-stacked-spins-scripting-the-photon-s-motion-technical#2915
. It belongs here.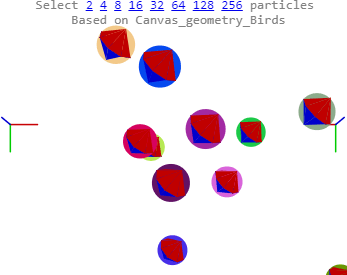 The spins aren't included yet. I'll make this a review and update with pretty new pictures.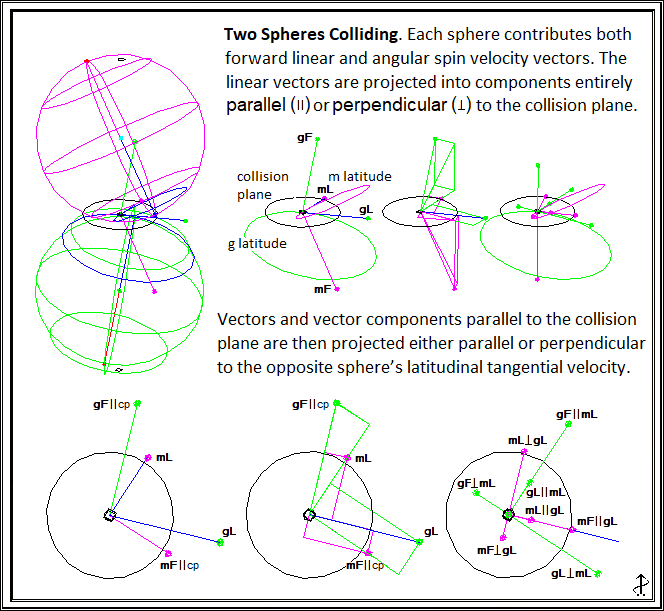 Two positive spheres, magenta and green, with equal mass and length radii, traveling linearly in the direction of the spin axis (perfect spirals makes the example slightly simpler) in roughly opposing directions happen to meet. Each sphere contributes two direction/velocity vectors: 1) a Forward linear velocity - here, green or magenta -
gF
or
mF
; and 2) the tangential spin velocity at the collision Latitude -
gL
or
mL
. The
gL
and
mL
tangent velocity vectors are shown with their latitude sources.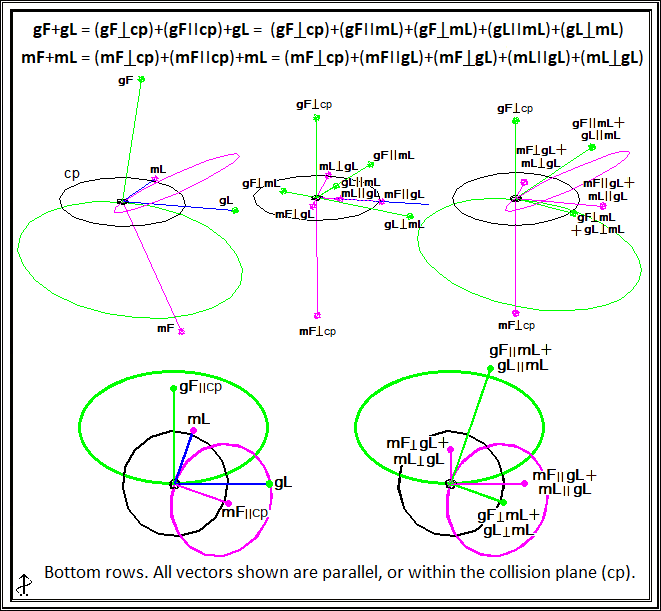 The two tangential vectors
gL
and
mL
form the collision plane. Their cross product describes the perpendicular direction between the two colliding sphere centers. One must be able to determine whether angular exchange leads to a change in the spin rates or cause torque and precession – an adjustment to the forward direction - or if at light speed, begin an x spin tumble.
The gif shows that the bounce works. I'm still stuck at angular momentum - yes, going in circles. Oh, and programming – call that the lack of. Over the last two weeks I've enjoyed viewing many new three.js examples and updating from version 61 to 87 something, something permanent brain damage.  
.
Great work, Airman. Keep it up. Don't worry about the programming. The only thing that matters is that it works! A programming language is just a tool like any other. It serves you. Experience brings finesse, but it is not required to get results.
Admin




Posts

: 821


Join date

: 2014-09-11



I concur with Nevyn... Very cool LTAM!
Admin




Posts

: 689


Join date

: 2014-08-09



.
Thanks guys, no final conclusions yet. I'll need to dig deeper into the subject.
Nevyn have you made any progress studying gyroscopic math? Here's a picture with a couple of concerns.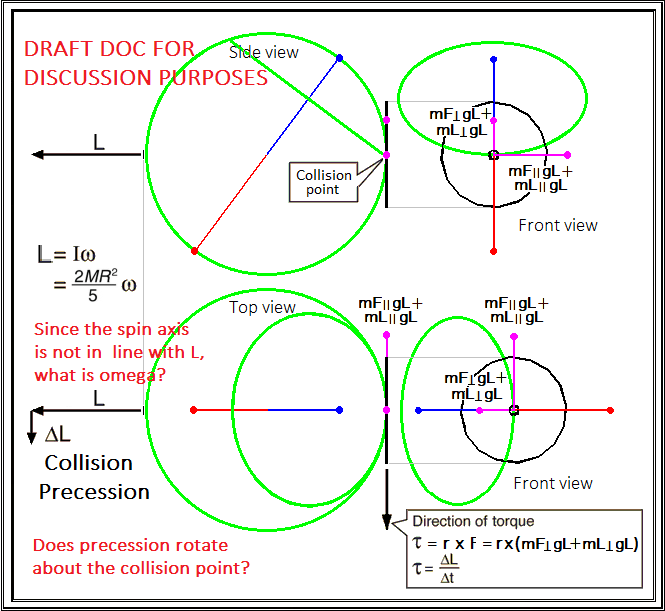 Any comments are welcome.
.
I don't know about precession rotating about the collision point, but it seems that Miles said or implied that the higher level spin rotates around that point.



Posts

: 443


Join date

: 2014-08-10



I haven't looked at it in some time. The collision point is either the new point of rotation (for the new top spin level) or it is on the opposite side from that if you draw a line between the centers of the colliding particles. I lean towards the former, just because it is a real point where-as the other one is a bit more of a virtual point (as it might not even be on the BPhoton). On the other hand, that collision point is where we need to attach the new tangential velocity vector, which is not the same as the rotation point. So I like both for different reasons. Which is more real: the rotation point or the velocity point? When asked like that, I lean towards the velocity.

Reality is probably even trickier and something else entirely.

That doesn't help much, does it?

Maybe we need to work it in both directions and take the path of least resistance. That is, which one is easier to work with and calculate.
Admin




Posts

: 821


Join date

: 2014-09-11



When we study this, should we take into account the constant speed of light?



Posts

: 62


Join date

: 2016-09-08



.
Alrighty already, here's an update. I've spent most of my quality time during the last couple of weeks relearning and cleaning up Boids, I'm still very much a beginner. I removed all but a mention or two of the original bird flocking functions, such as wall avoidance. I admit I tend to include anything understood or not that can be reused or modified and am generally a slob. I apologize for having shared such a mess. In my defense, I'm concentrating on vectors. I've worked plenty of problems with matrices before, certainly in my Linear Algebra class (shudder) and others. One can easily read the scale, translation, rotation and more in a change matrix. I'm limiting myself to a straight vector solution if at all possible. The Euler axis/angle operation is perfectly acceptable.
I believe it's fair to say I'm trying to model A-spin particle collisions at velocities well below light speed, but there are too many unknowns. I'm working with a given modeling space without a defined radius. It's relatively confusing. For a given velocity - below c - the smaller the radius, the faster the particle. Each particle contributes gravity and charge inversely - the smaller the particle, the stronger the charge and weaker the gravity. At the smallest radius, photons do not emit charge and fly in straight lines, interrupted only by the occasional photon collision. Larger charged particles are subject to continuous charge accelerations and may travel in curved  trajectories.
The model seems to match that, I can watch particles interact in complex loops or reduce or turn off the accelerations, leaving the particles simply bouncing in straight lines within a box, wraparound space or work out something else. I would implement the radius/tangential relationship Nevyn has written about; maybe we can tie gravity or charge magnitudes to the radius/spin frequency relationship. It's just a tiny model but I would guess working with the magnitude scale changes between charged particles with any model would bring similar problems.
I agree that any collision precession below the speed of light would occur around the collision point, but then, in a collision, how can two simultaneous rotations precess around the same point independently? I appreciate the question between the collision center and center of the X-spin, again, precession is somehow involved. I agree that the top spin tangential or linear velocities of a particle (including a photon) can be much less than c, the X rotation may start off slow.
I'm still reviewing, but most of the collision vectors are drafted and ready. My immediate goal moving ahead with angular momentum is a wall bounce. Given a ball's velocity, mass, composition, radius, surface friction, elasticity, gravity, etc., we are told that the angle of incidence equals the angle of reflection. That's easily shown to be wrong when spin is involved. How exactly does spinning effect the bounce? I'm still not sure, since it involves some non-intuitive results. I'll again refer you to Richard L. Garwin's, "
Kinematics of an Ultraelastic Rough Ball
" *. The ultraelastic superball bounce is what I'll shoot for. I have no problem accepting bounces since it seems to me that a particle bounce is equivalent to collision with the particle's reflection - an anti-particle.
* The American Journal of Physics, vol. 37, no. 1, January 1969, Kinematics of an Ultraelastic Rough Ball
http://www.rpi.edu/dept/phys/courses/PHYS1150/GarwinSuperBall.pdf
.
Page 3 of 3 •

1, 2, 3
---
Permissions in this forum:
You
cannot
reply to topics in this forum